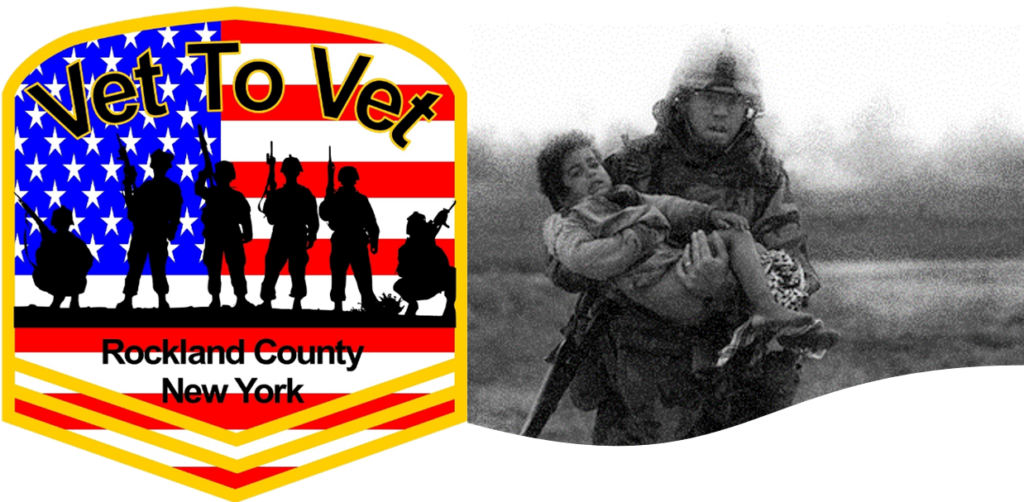 The PFC Joseph P. Dwyer Veteran Peer Support Program is named in honor of Joseph P. Dwyer, a US Army Medic in the Iraq War who, in the earliest days of the invasion in 2003, was pictured cradling a wounded boy while his unit was fighting its way up the Euphrates to Baghdad. PFC Dwyer's post-war struggles with Post-Traumatic Stress Disorder (PTSD) resulted in his untimely and tragic death in 2008.
The Dwyer Program was created by then-New York State Senator Lee Zeldin, now a congressman representing New York State's 1st District.  It began in Suffolk County and quickly expanded to almost half the counties in the state. Zeldin served four years in the Army active duty, deployed in 2006 to Tikrit, Iraq. Beginning in 2012, the Program now offers peer to peer counseling for Veterans suffering from PTSD, Traumatic Brain Injury (TBI) and any Veteran looking to reintegrate into civilian society.
Why is funding for Veteran support services important?
Donate to the PFC Dwyer Program
Veterans Benefits Counseling is provided at no cost by the New York State Division of Veterans' Affairs.
The Rockland County PFC Joseph P. Dwyer Veteran Peer Support Program is operated through BRIDGES and supported by the Rockland County Department of Mental Health and Rockland County Veteran Service Agency. The Program provides Vet-to-Vet support among Veterans, trained in military behavioral health, who personally understand the effects of PTSD and TBI. This program is available to all Veterans, members of the Armed Forces, Guard, Reserves, and their families.  All are welcome regardless of service dates, discharge status or dependency status.  The program is free and confidential.
In support of the Dwyer program, BRIDGES offers a 15-hour training in Military Behavioral Health for Veterans, Family Members and Professionals working with Veterans.  The course provides essential information on military culture, pharmacology, recovery, service of military families and various aspects of trauma, with a special focus on military sexual trauma, PTSD and TBI.
BRIDGES offers Veterans with disabilities door to door transportation to and from the Veteran Health Centers in Montrose, NY and Castle Point, NY.
Any Veteran interested in this service should call 845-624-1366, ext .102 for more information.
Transportation is free of charge, however BRIDGES does request and accept donations to help support and maintain these services for our Veteran community.
This program is available to all Veterans involved in the justice system.  All are welcome regardless of service dates, discharge status or dependency status.  The program is free and confidential.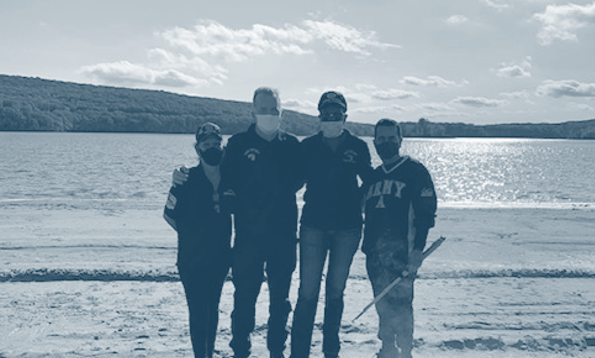 UPCOMING EVENTS AND ACTIVITIES
(Week of 9/20 to 9/24/2021)
View entire events calendar here
September 20, 22, 24 (M, W & F) MEDITATION from 9 am to 9:30 am. Class elicits deep relaxation and helps reduce stress and anxiety. Instructor Brett Cotter has 20 years experience. Participate via Zoom. Meeting ID: 85372435437 Passcode: 204526 or click here for link:
https://us06web.zoom.us/j/9838404045pwd=djE3VGhUTDJzRU1HMEJ6bnJxa3E2QT09 
September 21 (Tuesday) from12-1 pm, Good Samaritan Hospital's Garden Ministry presents: A TASTE OF HOPE No Cook' Cooking Demonstration. Discover the ease of using fresh garden produce in simple, quick & delicious recipes (Snappy Refrigerator Pickles) at the Garden of Hope, 255 Lafayette Avenue, Suffern, NY 10901. For further information contact Anne M. Meore at (845) 422-2785 or anne_meore@bshsi.org or at www.goodsamhosp.org/garden-of-hope
VETERANS WALKING CLUB at PALISADES CENTER.
September 21 (Wednesday) at 9:30AM Meet in front of BRIDGES located on the 2nd Floor. The Mall  at 9:30AM. Masks are required while in the mall, if not vaccinated. We will walk between 45 minutes to an hour. Join fast pace group, slow pace group or walk at your own pace. Just get walking!
September 22 (Wednesday) from 12 to 2 pm MONTHLY VETERAN ROUNDTABLE DISCUSSION: LET'S TALK ABOUT SUICIDE, TOPIC: "In Between the White Space", a short film passion project aimed to raise awareness for the veteran suicide epidemic in America. All are invited view the film and take part in this conversation. GUEST SPEAKER: Tyler Mendelson - Director and Producer of Film. USMC Veteran who served in Afghanistan in support of Operation Enduring Freedom, later
attaining the rank of sergeant. Online virtual event you can watch via Zoom .Meeting ID: 85372435437 Passcode: 204526 or click on:
https://us02web.zoom.us/j/85372435437pwd=T01ucnFUNktUQ1JKY2ozeUE5OHZTUT09
GENTLE YOGA. Postponed for two weeks
September 23 (Thursday) from 9-10 am. QIGONG (Ancient Chinese Exercise). Gentle meditative exercises based on Universal Life Energy known as Qi. Reduces pain, stress & anxiety. Instructor Norman Galinsky, has 36 years experience in the art. POC: iquintana@vettovetrc.org
September 24th (Friday) at 10:30 am, GOLD STAR MOTHERS CEREMONY hosted by the Rockland County Veterans Service Agency at Haverstraw Bay Park 21 Gagan Rd, Haverstraw, NY 0927. During the Ceremony we will also honor the 13 Service Members killed while serving in Afghanistan last month during the U.S. withdrawal operations as we recite their names.
September 24 (Friday) at approximately 11:15 am HIKING WITH VETS at Haverstraw Bay Park immediately following the Gold Star Mothers ceremony. Easy loop around the Park as you walk with Vet to Vet at fast, slow or your own pace. Location is 21 Gagan Rd, Haverstraw, NY 10927

Weekly Support Group Sessions

WELLNESS & RECOVERY VETERAN & FIRST RESPONDERS SUPPORT GROUP – Second Monday (September 13) from 2 pm to 4 pm via conference call. Session is led by Sharon Bailey. LCSW. You can call in with your name or stay anonymous. Dial in # 425-436-6393, Passcode 114029 #.

VETERAN & MENTOR SUPPORT GROUP – Last Tuesday of each month (September 28th) from 10 am to 11:30 am via conference call. Session is led by Veteran Outreach Coordinator Flore Raphael. Geared for Vets of every era who have taken the Military Behavioral Health Course .Dial in # 701-802-5101, Passcode 486179 #.