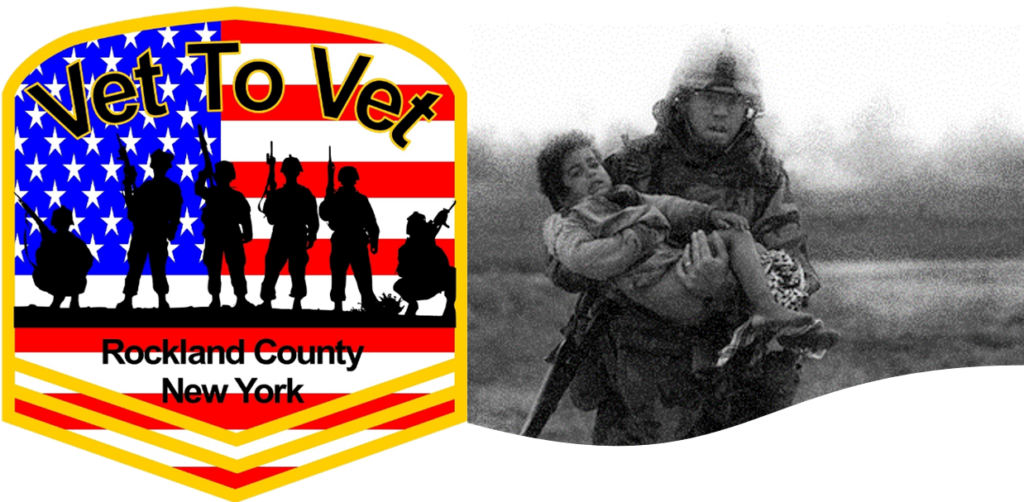 The PFC Joseph P. Dwyer Veteran Peer Support Program is named in honor of Joseph P. Dwyer, a US Army Medic in the Iraq War who, in the earliest days of the invasion in 2003, was pictured cradling a wounded boy while his unit was fighting its way up the Euphrates to Baghdad. PFC Dwyer's post-war struggles with Post-Traumatic Stress Disorder (PTSD) resulted in his untimely and tragic death in 2008.
The Dwyer Program was created by then-New York State Senator Lee Zeldin, now a congressman representing New York State's 1st District.  It began in Suffolk County and quickly expanded to almost half the counties in the state. Zeldin served four years in the Army active duty, deployed in 2006 to Tikrit, Iraq. Beginning in 2012, the Program now offers peer to peer counseling for Veterans suffering from PTSD, Traumatic Brain Injury (TBI) and any Veteran looking to reintegrate into civilian society.
Why is funding for Veteran support services important?
Donate to the PFC Dwyer Program
The Rockland County PFC Joseph P. Dwyer Veteran Peer Support Program is operated through BRIDGES and supported by the Rockland County Department of Mental Health and Rockland County Veteran Service Agency. The Program provides Vet-to-Vet support among Veterans, trained in military behavioral health, who personally understand the effects of PTSD and TBI. This program is available to all Veterans, members of the Armed Forces, Guard, Reserves, and their families.  All are welcome regardless of service dates, discharge status or dependency status.  The program is free and confidential.
In support of the Dwyer program, BRIDGES offers a 15-hour training in Military Behavioral Health for Veterans, Family Members and Professionals working with Veterans.  The course provides essential information on military culture, pharmacology, recovery, service of military families and various aspects of trauma, with a special focus on military sexual trauma, PTSD and TBI.
BRIDGES offers Veterans with disabilities door to door transportation to and from the Veteran Health Centers in Montrose, NY and Castle Point, NY.
Any Veteran interested in this service should call 845-624-1366, ext .102 for more information.
Transportation is free of charge, however BRIDGES does request and accept donations to help support and maintain these services for our Veteran community.
This program is available to all Veterans involved in the justice system.  All are welcome regardless of service dates, discharge status or dependency status.  The program is free and confidential.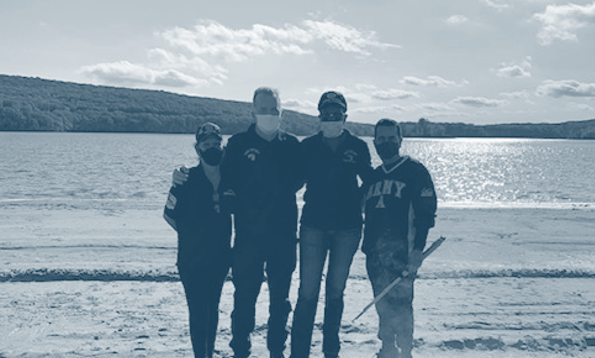 UPCOMING EVENTS AND ACTIVITIES
(Week of 8/2 to 8/7/2021)
View entire events calendar here
August 2, 3, 6 (M, W & F) MEDITATION from 9 am to 9:30 am. Class elicits deep relaxation and helps reduce stress and anxiety. Instructor Brett Cotter has 20 years experience. To participate download "Ring Central Meetings" app to your cell phone or meeting program onto your PC or laptop by clicking on website: https://www.ringcentral.com/apps/rc-meetings
GENTLE YOGA. August 2 (Monday) from 5 PM- 6 PM. and again on  August (Tuesday) 5-6 PM Virtual session via Zoom. Yoga is extremely beneficial for your physical and mental health. Instructor Mira Stangl is a 500 hour Yoga-Alliance Certified Teacher With Extensive Training in PTSD and Restorative Yoga. If interested in attending or have any questions, please contact Izzy Quintana at iquintana@vettovetrc.org.
August 2 (Monday) from 4:30 – 6:00 pm WOMEN VETERAN CREATIVE WRITING WORKSHOP. Classes will be conducted every Monday. Led by Veteran Outreach Administrator Sharon Bailey. We write not only about our time in service but how it has effected who we are as women today. We empower and encourage women to put their feelings and thoughts on paper. Prompts are used to facilitate the writing process. Via Zoom, Meeting ID: 875 4408 5635; Passcode: 292760 or click on https://us02web.zoom.us/j/87544085635?pwd=L1VoL0owV21lMnRqMElXakVJbG82Zz09
For Further questions, contact Sharon at sbailey@vettovetrc.org
VETERANS WALKING CLUB at PALISADES CENTER.
August 4 (Wednesday) Meet in front of BRIDGES located on the 2nd Floor. The Mall  at 9:30AM. Masks are required while in the mall. We will walk between 45 minutes to an hour. Join fast pace group, slow pace group or walk at your own pace. Just get walking!
August 4th (Wednesday) at 12pm MEDICARE 101:What Veterans & Caregivers Need To Know. POC: Izzy Quintana at iquintana@vettovetrc.org. Zoom Meeting ID: 869 5914 3958; Passcode: 750609 or
click on: https://us02web.zoom.us/j/86959143958?pwd=UjhQeVJDL0ZUeW5QNU5rRXRpYXBMZz09
August 5 (Thursday) from 9-10 am. QIGONG (Ancient Chinese Exercise). Gentle meditative exercises based on Universal Life Energy known as Qi. Reduces pain, stress & anxiety. Instructor Norman Galinsky, has 36 years experience in the art. POC: iquintana@vettovetrc.org
August 5 (Thursday) 7:30 to 9:00 pm SUMMER CONCERT SOCIAL at Bowline Park. Suggest you arrive between 6-6:30 pm so we can sit together. Performing local band is "Damaged Radio". Bring a chair or blanket to place on park lawn in front of the stage. Don't forget you dancing shoes if you
want to get your groove on with Vet to Vet. Concession stand on premise but you can bring your own food & drinks. Located at 1 Bowline Plant Road, Haverstraw NY 10927
August 6th (Friday) at 10:00am HIKING WITH VETS at Harriman State Park. Vet to Vet personnel will guide you along the path through the woods. Folks that want an easy walk can just stroll along Lake Sebago & enjoy the beautiful views of nature. If planning to go contact Outreach Coordinator
Carolyn Fugate to ensure we order enough food for lunch (Preferably 2 days prior). Carolyn can be reached at email cfugate@vettovetrc.org or cell phone 845-521-9440. Meet at Sebago Boat Launch parking located off Seven Lakes Drive. Click Directions: https://goo.gl/maps/5fPF5a2c94MWCL4f7
August 7th (Saturday) at 6:30 pm MILITARY APPRECIATION NIGHT with NY Boulders Baseball vs Equipe Quebec at Palisades Credit Union Park in Pomona. Pre-game band: NASH @ 4:30pm and post-game fireworks. Veterans get free admission with military ID. Come and join RC Vet to Vet for a fun night out. For further information call (845) 364-0009 - Monday-Fridays, 9:00 - 5:00PM

Weekly Support Group Sessions

WELLNESS & RECOVERY VETERAN & FIRST RESPONDERS SUPPORT GROUP – Every Monday from 2 pm to 4 pm via conference call. Session is led by Sharon Bailey. LCSW. You can call in with your name or stay anonymous. Dial in # 425-436-6393, Passcode 114029 #.

VETERAN & MENTOR SUPPORT GROUP – Every Tuesday from 10 am to 11:30 am via conference call. Session is led by Veteran Outreach Coordinator Flore Raphael. Geared for Vets who have taken the Military Behavioral Health Course .Dial in # 701-802-5101, Passcode 486179 #.