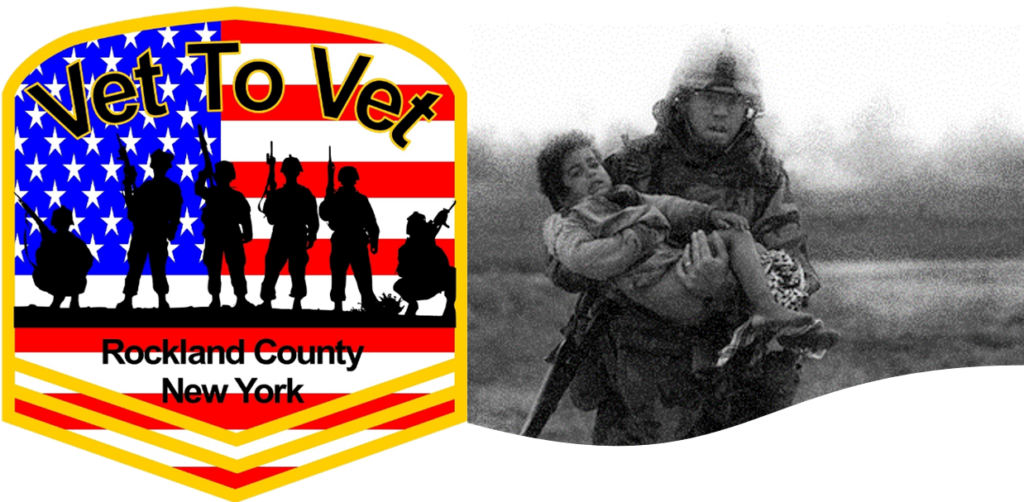 The Joseph P. Dwyer Veteran Peer Support Program is named in honor of Joseph P. Dwyer, a US Army Medic in the Iraq War who, in the earliest days of the invasion in 2003, was pictured cradling a wounded boy while his unit was fighting its way up the Euphrates to Baghdad. Dwyer's post-war struggles with Post-Traumatic Stress Disorder (PTSD) resulted in his untimely and tragic death in 2008.
The Dwyer Program was created by then-New York State Senator Lee Zeldin, now a congressman representing New York State's 1st District.  It began in Suffolk County and quickly expanded to almost half the counties in the state. Zeldin served four years in the Army active duty, deployed in 2006 to Tikrit, Iraq. Beginning in 2012, the Program now offers peer to peer counseling for Veterans suffering from PTSD, Traumatic Brain Injury (TBI) and any Veteran looking to reintegrate into civilian society.
Why is funding for Veteran support services important?
Donate to the Dwyer Program
Veterans Benefits Counseling is provided at no cost by the New York State Division of Veterans' Affairs.
The Rockland County Joseph P. Dwyer Veteran Peer Support Program is operated through BRIDGES and supported by the Rockland County Department of Mental Health and Rockland County Veteran Service Agency. The Program provides Vet-to-Vet support among Veterans, trained in military behavioral health, who personally understand the effects of PTSD and TBI. This program is available to all Veterans, members of the Armed Forces, Guard, Reserves, and their families.  All are welcome regardless of service dates, discharge status or dependency status. The program is free and confidential.
In support of the Dwyer program, BRIDGES offers a 15-hour training in Military Behavioral Health for Veterans, Family Members and Professionals working with Veterans.  The course provides essential information on military culture, pharmacology, recovery, service of military families and various aspects of trauma, with a special focus on military sexual trauma, PTSD and TBI.
BRIDGES offers Veterans with disabilities door to door transportation to and from the Veteran Health Centers in Montrose, NY and Castle Point, NY.
Any Veteran interested in this service should call 845-624-1366, ext .102 for more information.
Transportation is free of charge, however BRIDGES does request and accept donations to help support and maintain these services for our Veteran community.
UPCOMING EVENTS AND ACTIVITIES
View entire events calendar here.
  
Wednesdays at 9:30 am: Veterans Walking Club at Palisades Center
Meet in front of BRIDGES, 2nd Floor, next door to Autobahn Indoor Speedway. We will walk between 45 minutes to an hour. Join fast-pace group, slow-pace group or walk at your own pace for however long you want. It's cold outside and the mall offers us a nice warm indoor venue where we can gather together and get some fitness and exercise while we get walking!
December 15, 2022, 6 PM - 10 PM: Veteran Holiday Party
Beer, wine and dinner included. $10 suggested donation per person. Located at the Pearl River Elks Club, 2041 Elks Drive, Nanuet, NY 10954. Register online or at the BRIDGES office, 2nd Floor of Palisades Center. Open to Rockland County veterans and their guests only.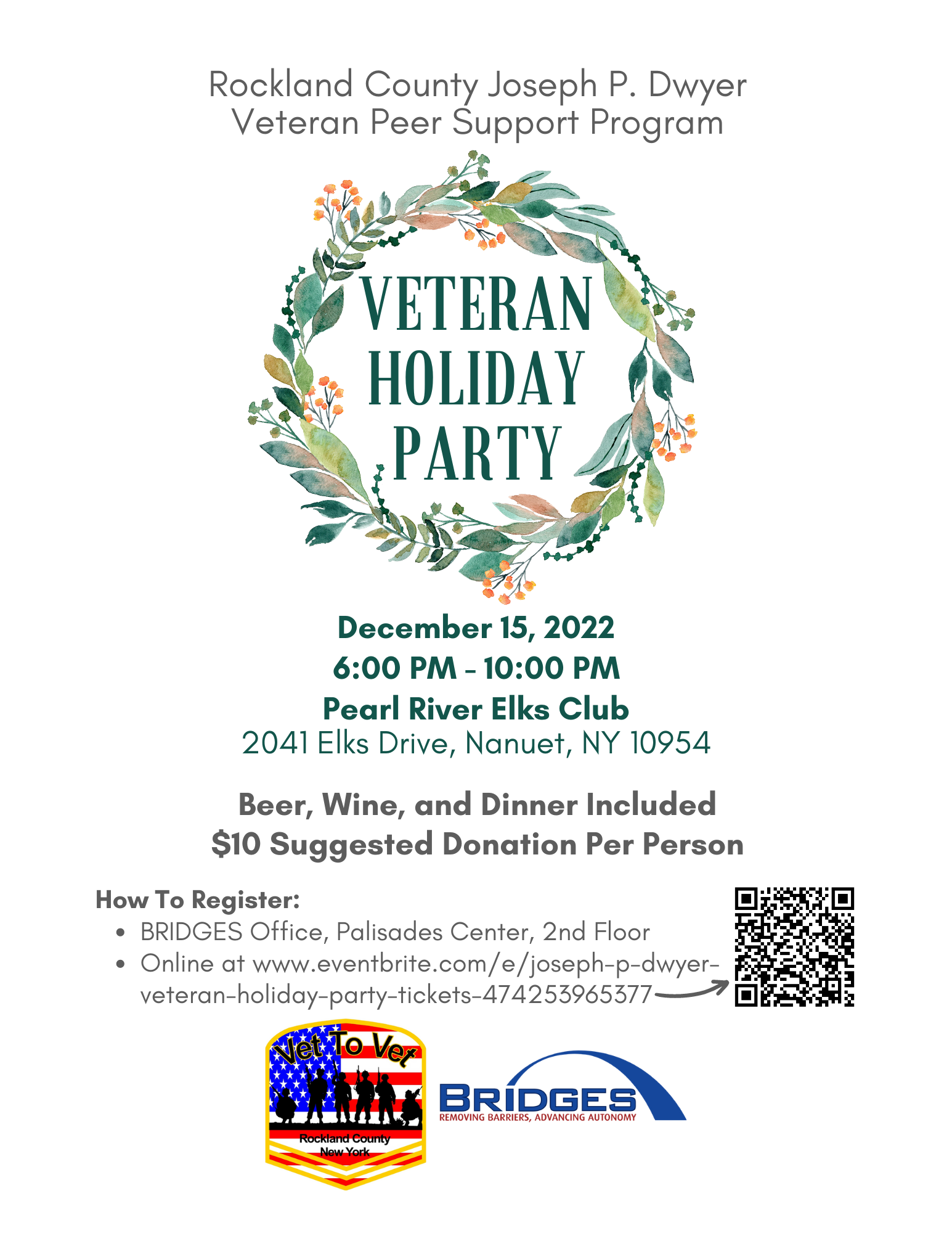 Monday, January 9 and Wednesdays starting January 28: Veteran's Writing Workshop
Veterans Writing Workshop is offering a free 8-week creative writing workshop just for U.S. Veterans and active-duty military in Rockland and Orange Counties.
In this 8-week session, 90-minute workshop you will:
• Learn the skills that will help you write your stories
• Receive valuable feedback from a published writer
• Become a part of a supportive community of writers
• Be invited to join Veteran/Student Story Exchange (VSSX)
Starting Monday, January 9, moving to Wednesdays starting January 18 from 7 PM to 8:30 PM. BRIDGES, Palisades Mall, 2nd Floor, West Nyack, or Zoom.
To register for this free workshop, contact Mark Woods, Director of Veterans Services, at mwoods@vettovetrc.org or 845-521-9440. Email info@veteranswritingworkshop.org for more information.