BRIDGES offers a variety of volunteer opportunities, including and not limited to:
CHORE Program
Administrative Volunteer Opportunities
Student Internships
Employment Training Internships
CHORE
CHORE is a resource to people living in Rockland County. CHORE helps people to maintain the independence of living at home by providing free minor household repairs and home improvements.
Services:
Repair lighting
Replace light bulbs
Install grab bars
Install raised commode seats
Repair/tighten handrails
Repair stair treads
Replace electrical outlets
Install curtains or blinds
Change batteries in smoke/CO detectors
For more information, contact (845) 624-1366 Ext. 101.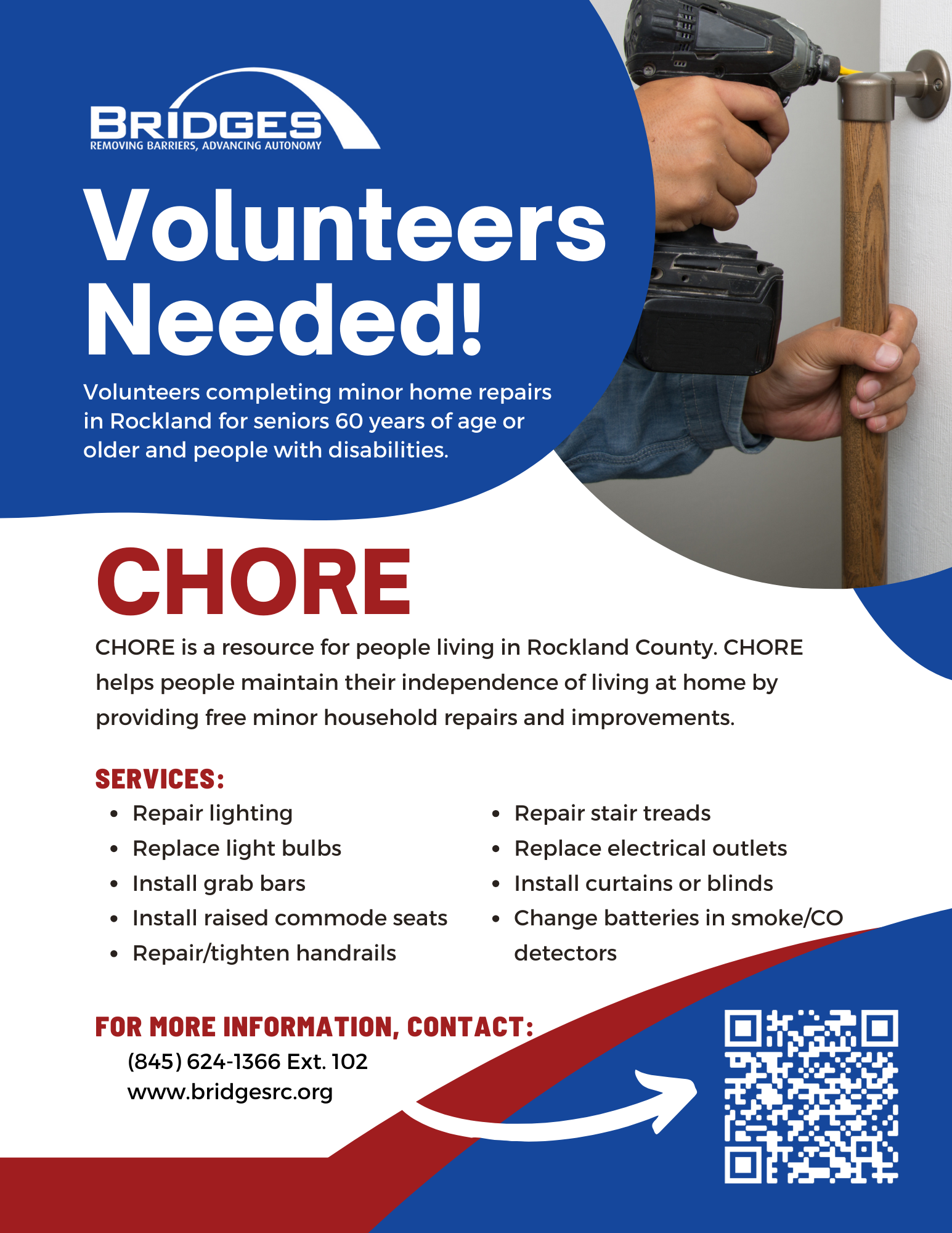 Volunteer Driver - Veteran Transportation (Part-Time)
Position Description:
BRIDGES operates a variety of programs guided by the Philosophy of Independent Living to provide services and supports for individuals with disabilities to experience autonomy in all areas of living.
This volunteer opportunity is to provide safe transportation of VETERANS to their medical appointments at Castle Point and Montrose VA facilities.  Drivers are expected to maintain the cleanliness and safety of the vehicle and will be given proper equipment for safety measures.
Qualifications:
Maintain a valid Driver's license with a clean driving record
CDB Preferred
Ability to work a flexible schedule
Able to interact with co-workers and passengers in a friendly and culturally sensitive manner
Maintain strong work ethic and strict adherence to code of ethics, standards of conduct and confidentiality.
Able to lift 30 lbs.
Duties and Responsibilities:
Complete all paperwork prior to every trip including sign out log and vehicle trip report
Ability to record confidential information of each Veteran
Comply with all federal, state and local traffic regulations
Refuel vehicles when needed and keep them with a minimum of ¼ tank of gas
Provide transportation to Veterans and people with disabilities to ensure they arrive for their appointment prior to their scheduled time.
Ensure the safety and well-being of passengers
Have a compassionate and respectful attitude towards all passengers
Mission Statement - The mission of BRIDGES is to provide advocacy and leadership toward an accessible, integrated community, promoting health and autonomy for people with disabilities.
Please fill out this form and direct all inquiries regarding volunteer opportunities to Sue Cibirka, Human Resources Manager, at scibirka@bridgesrc.org or call (845) 624-1366 Ext. 101.