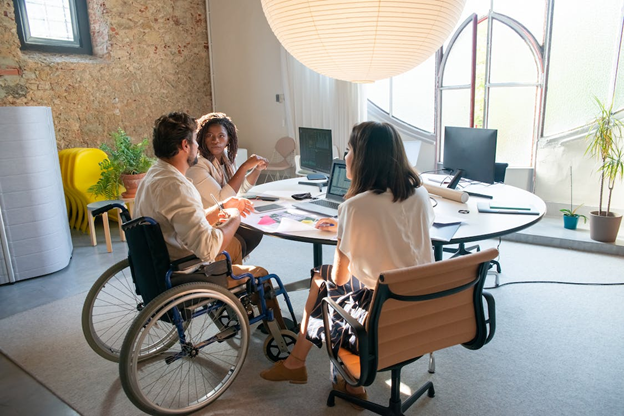 By: Suzanne Tanner
Job-seeking has always been challenging, but for people with disabilities, it can seem even more daunting. However, with determination and the right mindset, it is possible for people with disabilities to achieve career success and financial independence. In this article, we will provide several tips for people with disabilities who are looking for a job.
Set bold goals for your career
To ensure a successful and fulfilling career, it's important to prioritize your career roadmap with goal setting. Start by identifying your passions and skills, and then determine what type of work aligns with them. Seeking guidance from professionals in your field of interest or a career counselor can help you create a strategic plan that pushes you towards achieving your ambitious yet attainable career goals. Remember, setting goals not only helps you stay focused and motivated but also provides a clear direction for your career journey.
Understand your rights under the ADA
The Americans with Disabilities Act (ADA) was established to ensure that individuals with disabilities have equal access to employment opportunities in the United States. It is crucial to know your rights when job seeking. Discrimination based on a person's disability is illegal. The ADA mandates that employers must provide reasonable accommodations to employees or job applicants with disabilities. In addition, interviewers and employers may not ask about applicants' disabilities unless it is a task-related question.
Look for companies that are committed to inclusion
Paying attention to employers' histories, mission statements, and the degree of commitment to diversity and inclusion can tell you a lot about the organization's culture. A position with a company that values fairness and diversity will make it easier to fit in, work in a conducive environment, foster harmony, and become a more productive and exceptional employee.
Work with a vocational rehabilitation counselor
This professional specializes in identifying potential jobs, developing applications and resumes, and providing guidance in navigating job interviews. They are trained to offer mobility and support services for individuals with disabilities that can help them find meaningful employment opportunities.
Earn an online degree
Earning an online degree can significantly increase career prospects and open up the opportunity to work in a variety of industries. Through online learning, students with disabilities have flexible and accessible options when it comes to pursuing a degree. Online degrees are great because coursework is delivered through an easily accessed online platform, allowing for more convenient and flexible completion. When considering a bachelor's degree in business, it is essential to research accredited online colleges and majors that fit your career ambitions before making the decision to pursue an online degree in business.
Anticipate interview questions about to your disability
Prepare for potential interview questions related to your disability. Although it is illegal for interviewers to ask questions about your disability, potential employers might ask how your disability will impact your ability to perform the job's duties. In your preparation, avoid giving lengthy responses about your disability. Instead, offer brief answers concentrating on your ability to perform duties and how you will meet the job's expectations.
Discuss accommodations or assistive technology
Highlight the accommodations or assistive technology you may need during interviews. If possible, call before your interview to explain your needs or reach out to human resources to discuss your required accommodations. This will give employers time to meet your accommodation requirements before your actual interview or workday.
Focus on your skills and abilities
In your job applications or interviews, focus on your abilities and skills rather than your disability. Mention how your disability has improved your attention to detail, problem-solving, and time management. Stating your strengths will help you stand out from other applicants and make a positive impression on potential employers.
Finding a job as a person with disabilities can be challenging. The tips outlined in this article should help guide your journey towards a fulfilling career. Establish clear goals, educate yourself about disability law, consider earning an online degree, research companies that support diversity and inclusion, and work with vocational rehabilitation counselors to make your job search journey more manageable. Remember to highlight your abilities and concentrate on your skills. We wish you the best of luck in your job search!
BRIDGES is committed to advocating for individuals with disabilities. Contact us to learn how we can help.