WHY DISABILITY TALKS ARE IMPORTANT FOR OUR COMMUNITIES
One in every four people in our country have a disability. Various types, including; Mobility Disabilities, Traumatic Brain Injury or Acquired Brain Injury, Deafness/Hard of hearing, Blind or Low Vision, Cognitive/Intellectual or Learning , Mental Health or Psychological and the invisible disabilities which may include some of the above listed types.
When we think of disabilities sometimes we fail to realize that we've been viewing disabilities from a negative perspective. In parts all over the world including our country, the belief, sometimes is that someone disabled is cursed, sick or defective or even as a burden to friends and family. In those same parts of the world and even broader, disability is viewed mostly from a medical lens and as objects for professional intervention.
Our worldview around disability is based on centuries old views that perpetuate the response we've seen in history and we see even today. Webster's New World Thesaurus from 1982 provided synonyms to disability as the following: helpless, useless, wrecked, senile, weakened, worn-out, and the list goes on. Its antonyms were; healthy, strong and capable. The 2009 Merriam-Webster Thesaurus provided synonyms such as: sick, unfit, unsound and unwell, and antonyms such as: fit, chipper, whole or wholesome.
This was the system that taught us that being disabled is a curse. People with disabilities as a result of this systematic worldview of learning have been bullied and discriminated against and even today while the blatant bullying and discriminating continues to exist, the most destructive form of behavior today against the disability community is the quiet prejudice of low expectation. People with disabilities are viewed even today as less than or second class citizens who can't possibly do things for themselves or contribute to everyday life.
We know humans are imperfect beings. That is a fact. So the following statement must also be true; Disability is a natural part of the human experience. This is important to understand and accept. Because in doing so, we must accept that we as a human race have fallen short of ensuring equitable rights and opportunities for people disabilities in every area of human life. We've fallen short on making the inaccessible accessible for centuries because of our views.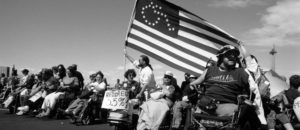 The disability rights movement began somewhere around the 1960's by people with disabilities who were committed to altering the worldview on disability and introduce a new perspective or paradigm on how we view, treat, serve and support people with disabilities. People like Judith Heumann, an International disability rights activist; a wheelchair rider – who understood her rights as a member of the community fought her way through various instance of discrimination, even fighting to be a teacher at a public school. Even with all the appropriate qualifications she was denied that opportunity. Judith, however, was persistent and won that battle which gave her the freedom to teach elementary school students in NYC.
Another leader in the movement was Ed Roberts who experienced various forms of discrimination, fought his way into college after being denied because of his disability. Ed Roberts is said to be known as the founder of the Independent Living Movement and the beginning of the Centers for Independent Living, like BRIDGES.
Centers for Independent Living, like BRIDGES exist all over the world thanks to these and many more disability rights leaders in our community, for the sole purpose of de-medicalizing disability, de-institutionalization of people in nursing homes and institutions and developing a cross disability (inclusion of all disabilities) network and culture that includes all people. In the Independent Living philosophy, people with disabilities are primarily seen as citizens and only secondarily as consumers of healthcare, rehabilitation or social services.
A Dr. Ratzka once said…"Independent Living does not mean that we want to do everything by ourselves, do not need anybody or like to live in isolation. Independent Living means that we demand the same choices and control in our every-day lives that our non-disabled brothers and sisters, neighbors and friends take for granted. We want to grow up in our families, go to the neighborhood school, use the same bus as our neighbors, work in jobs that are in line with our education and interests, and raise families of our own. We are profoundly ordinary people sharing the same need to feel included, recognized and loved."
"When someone's body or brain works in a way that requires tools or strategies to participate in the community."
Disability is a natural part of the human experience. This is why laws like the Americans with Disabilities Act was created and should be respected as part of creating accessible and universally designed infrastructures. Accessibility, inclusion and universal design are things that start at the mind; a mindset. You have to take apart what you've known and or understood to be the "standard" or the "normal way" of doing things and do what a person by the name of Elise Roy said: Think about people with disabilities first! Because when we do, everybody benefits. Take a look at the image below. This image represents a problem with our systemic view about people with disabilities and the fact that for too long we've been programmed to think of people with disabilities "after-the-fact".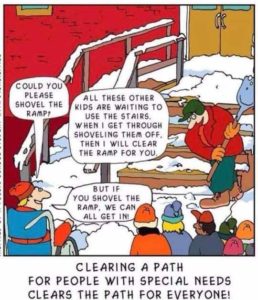 Access and inclusion begins with our way of thinking. Barriers exist because of attitudes and physical structures that are in place in large part because people with disabilities were ignored or not thought of beforehand.
I mentioned the synonyms earlier, here's how disability is defined today in our latest dictionaries: "a physical or mental condition that makes ordinary activities more difficult than they are for other people…" I would argue that this definition should really be: "a community or societal condition that makes ordinary activities more difficult than they are for other people". Judith Heumann said that her disability doesn't handicap her, society does! So, here's how the disability community defines disability: "When someone's body or brain works in a way that requires tools or strategies to participate in the community."
Let's work towards a more accessible community!
Written by Carlos Martinez, LMSW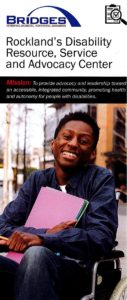 Carlos Martinez is the Executive Director at BRIDGES which was founded in 1987 under its legal name Rockland Independent Living Center (RILC). We are a community-based, peer-driven, cross-disability, not-for-profit organization dedicated to advocacy and leadership on behalf of people with disabilities. BRIDGES is one of 41 Independent Living Centers (ILC) operating in New York State under the auspices of New York State Education Department (NYSED). Each ILC adheres to a national philosophy of Independent Living (IL) that seeks to empower individuals with disabilities to make autonomous decisions regarding all aspects of living and advocating to ensure equal access to the opportunities desired.
Rockland Independent Living Center, Inc. dba BRIDGES is located at: The Palisades Center, 2290 Palisades Center Drive, West Nyack NY 10994 ● Phone: 845-624-1366 ● Website: bridgesrc.org