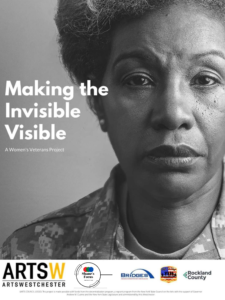 Welcome to "Making the Invisible Visible" — a Women Veterans Project and Virtual Photo Gallery. Please read the following instructions to ensure that you have the best experience possible.
There are two different ways to interact with the exhibit:
Method 1: Guided Tour
The guided tour will take you on a tour of the entire exhibit. To begin your guided tour, select the "Start Guided Tour" option to begin your journey. Clicking the "i" icon in the corner will provide an extended description of the piece. Caution: Viewers are unable to slow down the tour. Clicking anywhere on the screen  during the tour(including clicking "Pause Tour") will exit guided mode and enter "free roam" mode (explained below). Note: Refresh the page to restart the tour.
Method 2: Free Roam 
Free roam allows for self-paced browsing . Select "Enter Exhibition" to begin. Use the on-screen arrow keys, or a keyboard to interact with the exhibit. Clicking and dragging with the mouse cursor is another option. It is recommended that visitors click on a piece and use the the on-screen arrow keys to browse the art at their own speed. Additionally, selecting "List of Works" allows visitors to jump between specific works.
Please enjoy the exhibit!