Today's weekly publication includes a short video on Deaf Culture in a school from South Jersey:
Video from Deaf students signing to a song from The Greatest Showman:
Deaf students singing in American Sign Language
This video aims to raise Deaf culture and celebrate the diversity of all people.
Event being held next Wednesday, April 24 at the New City Library by Jason Ross and Zasia Davis at BRIDGES:
Event at New City Library to Inform the Community to Stop the Shock at the Judge Rotenberg Center
Cartoon:
A Cartoon about the lack of understanding in society for people with disabilities to know they have their own voice and mind. Image Description: A person with a disability or disabled person in a box with hands trying to grab them from behind as if they are a puppet. The researcher then says "You know, I think he understands everything we say".
Read this article about how people misperceive people with invisible disabilities
How to make people with invisible disabilities feel respectedwith no stigma
Read this article to learn more about how Veterans concerns are just as important:
Veterans Suicide Concerns in Veterans Affairs Administration
A video about how the mass media takes responsibility for the misperceptions of Autistic culture and disability culture generally:
Rethinking Autism: Autistics Speak
Finally, here is a cartoon showing perceptions being done right:
Autism is caused by reproduction.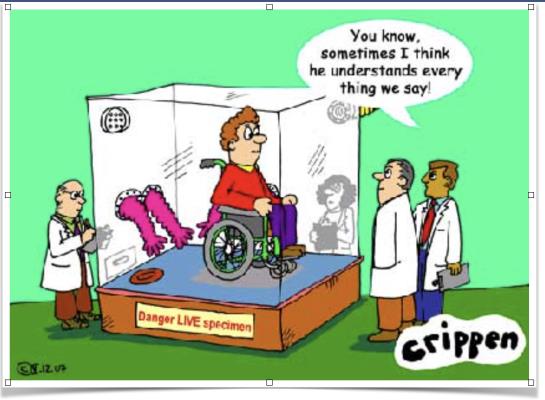 Image Description:
Autism misconceptions:
Autism is not caused by bad parenting
Autism is not caused by vaccination
Autism is not caused by eating any type of food
Additional misconceptions:
Autism is not lack of empathy
Autism is not a behavior problem it is a sensory processing perception?
Autism is a communication disability (it depends on how constraining the constraining the communication disability is per individual), Autism is not high or low intelligence.
Autism depends on high or low support needs depending on a particular individual every day.