"The burden of being perceived as different persists and the solution to this problem is community." This is Andrew Solomon's message in his article "The Dignity of Disabled Lives," adapted from the new book "About Us: Essays from the New York Times Disability Series."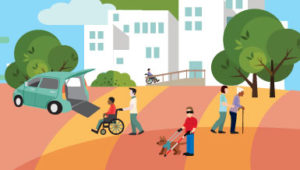 According to Solomon, three challenges – inherent, access, and social – are almost always in play for people with disabilities. Inherent challenges arise when a person with a disability is defined by his or her limitations. Access continues to be an issue for people with disabilities even in today's post-ADA world. Social challenges are present when people view a person with a disability as different and don't acknowledge that our humanity is the same.
Sometimes people with disabilities are viewed as "less than." Their value as a person is diminished when they are treated as somehow less than those who are able bodied. Solomon makes an important observation, comparing "the quest to assert equality without making false claims of equivalence to the quest of the women's movement, the civil rights movement, and the gay rights movement." He believes that "disabled lives are as valid as nondisabled lives, but they are not the same."
If community is the solution to being perceived as "different," Solomon suggests that interdependence may be the key. Independence is valued and desired by most people; nevertheless, we all depend on each other for something. We are all made up of strengths and weaknesses. Solomon also talks about isolationism and the notion that people with disabilities should be out of sight, apart from the community. Nothing about that honors our dignity.
When we value dignity and worth, we acknowledge and honor the inherent right and value of each person and treat people in a caring and respectful fashion. Every person has dignity simply by virtue of the fact that he or she is a human being. It is a birthright.
Being part of the community is our right and just may be the solution to being perceived as different. Community includes everyone. If each of us has inherent dignity, including people with disabilities, then an accessible, integrated community that treats people with caring and respect — in other words, honors that dignity — is the solution.