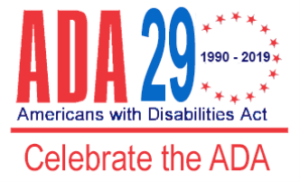 Signed into law in 1990, the Americans with Disabilities Act (ADA ) is a civil rights law that prohibits discrimination against individuals with disabilities in all areas of public life, including jobs, schools, transportation, and all public and private places that are open to the general public.
Click HERE or on the photo on the left to register!
In celebration of the 29th Anniversary of the ADA, BRIDGES is holding its annual ADA Celebration at:
The Palisades Shopping Center
Friday, July 26th 
10 AM – 12 Noon
With vendor resource tables from local and regional organizations!
Light Refreshments Included
BRIDGES will present the following awards:
Senator Eugene Levy Memorial Independent Living Award
Presented to an organization or individual whose efforts have made a significant contribution to the lives of people with disabilities
William H. Mullin Memorial Systems Change Advocate Award
Presented to an organization or individual who has worked towards making significant changes in the lives of people with disabilities
Keith B. Hayes Memorial Spirit of Mentoring Award
Presented to a person who exemplifies outstanding achievement through the mentoring of people with disabilities on their path to employment and independence
Will A. Morales Memorial Award
Presented to a person who is a role model in taking charge of their own services
The Spirit of Recovery Award
Presented to a person who exemplifies the success of people facing the challenges of recovery in life and work