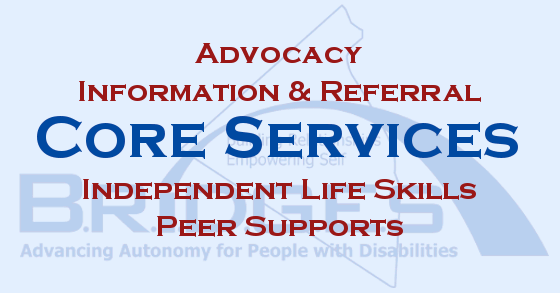 This message is prepared specifically for you…
…as an investor in the mission leading Rockland County toward being a fully integrated, accessible community for everyone, you have helped BRIDGES to provide advocacy for people with disabilities throughout 2017 …and together, we are accomplishing the goals!
Core services for every Independent Living Center include: Advocacy, Peer Supports, Information & Referral, and Independent Life Skills.  For Rockland County, BRIDGES is an excellent first place to go for every person and family faced with the challenges of a disability.  The process begins with a simple Intake process to help understand the disability and resources available to address that disability.
Through strategic partnerships with ACCES-VR, Rockland County (DSS, DMH, DOH, VSA), and more than 30 Community Based Organizations, BRIDGES helps you determine first steps toward making your own decisions about health care, employment, living situations, education, and every aspect of how you choose to live.  Guided by peers – people who live independently with their own disabilities – core services help "BRiDGE" you to the services you need.
And wait, there's more!  BRIDGES also offers Benefits Advisement and assistance for Housing, Education, Employment, and Nutrition Services – including a client-choice Food Pantry, Nutrition Classes, and Chronic Disease Self-Management.
●  Core Services  ●  PASER  ●  Integration Services  ●
●  Veteran Services  ●  Community Partnerships  ●
●  Advancing Autonomy in 2018  ●
All services are provided at no cost to persons served.
What can I do?
●  Advocacy: Advancing Autonomy for People with Disabilities!
●  Volunteer opportunities: Drivers Needed!
●  Employment opportunities are listed on the agency website
●  Sponsorship Opportunities – CLICK HERE to learn how you can be a sponsor!
○  March 8 – Advancing Autonomy Celebration
○  July 26 – ADA Breakfast
●  Financial support

BRIDGES is a 501 (c) iii tax-exempt organization governed by a
Peer-Based Board of Directors in accordance with Independent Living philosophy.