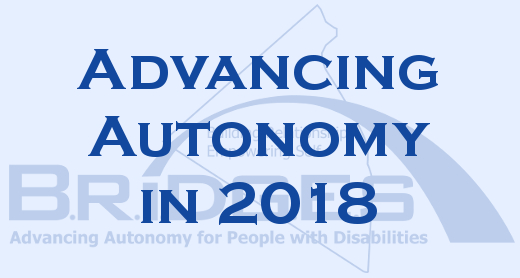 This message is prepared specifically for you…
…as an investor in the mission leading Rockland County toward being a fully integrated, accessible community for everyone, you have helped BRiDGES to provide advocacy for people with disabilities throughout 2017 …and together, we are accomplishing the goals!
2017 was a fantastic year for BRiDGES! We are even more excited for 2018, as the agency continues to Advance Autonomy toward a fully integrated, accessible Rockland County.
Throughout the holiday season, BRiDGES has shared information about its services and partners. As we look forward to 2018 – BRiDGES has established new goals.
The Independence Café has proven a successful model for both meeting a community need while advancing the mission of the organization. This small coffee shop provides both employment and business training for Veterans. In the same spirit, BRiDGES hopes to introduce Independence Dog Biscuits this year – with proceeds supporting the partnership with Hi-Tor Animal Care Center and Behavior Plus to provide fully trained Service Animals for Veterans – at no cost to the Veteran. The 175+ hours of training that each animal completes typically costs $7,500 or more, especially if special equipment is needed.
I would like to invite everyone to BRiDGES's Advancing Autonomy Celebration on March 8 at Patriot Hills Country Club. This event, which is the agency's primary fundraiser, is offered at no charge through the generous support of sponsors. The highlights of the evening are the stories shared by the persons who utilize the services of BRiDGES. This year, the theme of the evening will emphasize how one person's story helped make systemic changes that benefit many. I look forward to celebrating these stories together!
● Core Services ● PASER ● Integration Services ●
● Veteran Services ● Community Partnerships ●
● Advancing Autonomy in 2018 ●
All services are provided at no cost to persons served.
What can I do?
● Advocacy: Advancing Autonomy for People with Disabilities!
● Volunteer opportunities: Drivers Needed!
● Employment opportunities are listed on the agency website
● Sponsorship Opportunities – CLICK HERE to learn how you can be a sponsor!
○ March 8 – Advancing Autonomy Celebration
○ July 26 – ADA Breakfast
● Financial support

BRiDGES is a 501 (c) iii tax-exempt organization governed by a
Peer-Based Board of Directors in accordance with Independent Living philosophy.